Sea Container Transportation
We realize opportunities to the maximum capacity, taking advantage of the fact that we are from Odesa. There are always pathways open for those who know how to use them.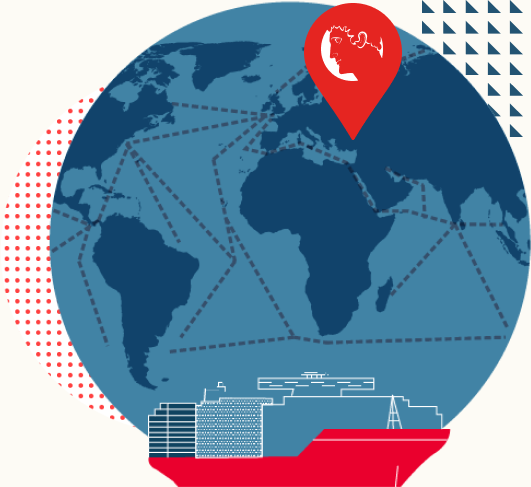 Odessa

is a city of open routes

We actively use our geographical location, working to develop your business.

Unlimited maritime access system keeps costs to a minimum. Every day we deliver goods to supermarket shelves, equipment to enterprises, furniture, clothes or toys to shops and other products without which we cannot imagine our life. The scale of sea freight makes the cost much more attractive than air freight, allowing you to organize international transport, linking people outside the usual routes. Making everyone happy from getting what they want.
We undertake the creation and
implementation of solutions
for maximum benefit
Working to achieve the goal, we become part of your team.
With our help, you concentrate on the main thing, namely your business. We believe that everyone should focus on their own business. And what we will do, now we decide.

Reduce the distance between
aims and the result
People often think there are three stages to transportation logistics: cargo preparation, selection of a departure point and delivery to a destination. However, in practice it often turns out to be not that simple. For our customers, we simplify the logistics system from the inside out, so that the process is as clear and comfortable as possible for everyone.
We create an individually-tailored route model and we comprehensively solve all the issues related to transportation, so you can be calm, and confident that all business processes will be implemented successfully. We provide support and all necessary maintenance, with the aim, simply, of reducing the distance between your goal and its successful achievement.
Get a personalized offer
for your business from our managers!
Leave your contact details and we will be in touch within 24 hours to discuss the details:
What else can we do
for you?
We are always ready to assess the state of play and together create a reliable logistics model. Where do we start?
The sea is a map of opportunities that allows us to ...

seek the best option for working with the customer, as well as flexibly respond to market changes, due to our track record of successful work with shipping lines
provide insurance for shipments by sea

organize the transportation of any consignment of goods at the optimal cost

predict and verify the status of cargo delivery by sea

minimize your participation in the process of sending or receiving cargo, thanks to a streamlined mechanism

provide services for the import and export of goods from any countries; supplier inspection, product quality control and more
We will make you leaders,
so we can share in your success!
Your success is a sign of our well-coordinated, conscientious and meticulous work. All you need right now is an understanding of the processes. Join us for a cup of coffee, and see everything, with your own eyes, from the inside.
Have a question or suggestion?
Let's
talk!